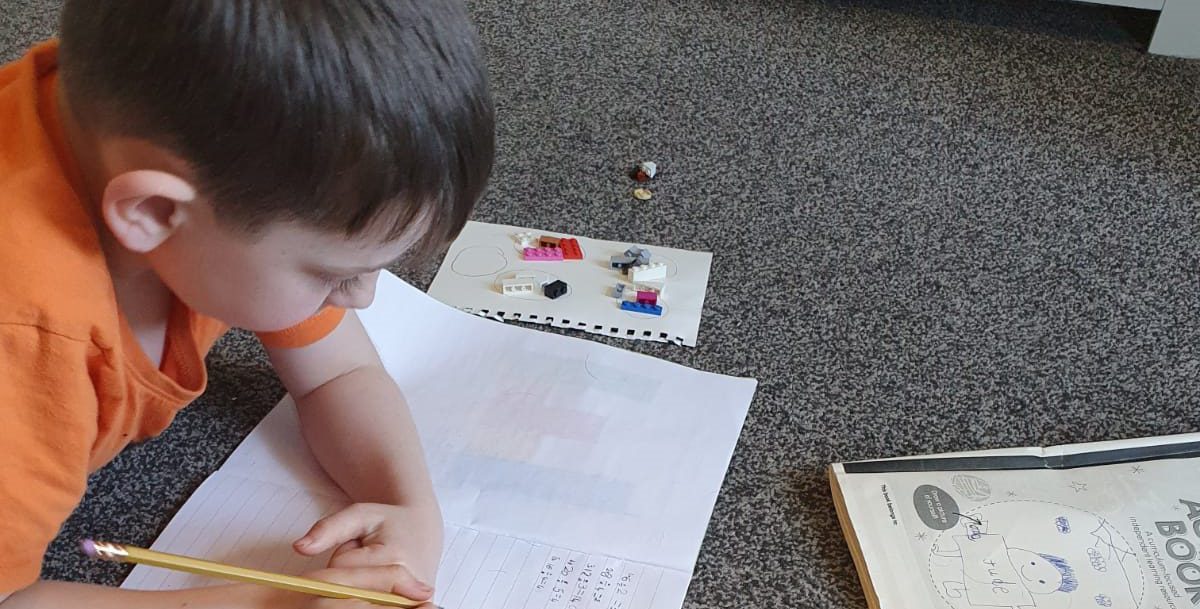 The SEJ asked EIS members from across Scotland to share their experiences of working during the COVID-19 pandemic. From working from home to support young people, to volunteering in Hubs to provide care for the children of key workers, Scotland's teachers have continued to perform a range of vital roles during the lockdown. Here, we share the experiences of real teachers – both the positive and the negative – of working in the current unprecedented situation.
The Power of Fun
We are currently on our sixth week of the strangest experience I have had in my teaching career so far. When the news came that schools were closing and that learning would be taking place at home, I think I felt every emotion in the space of five minutes. From stressing about how to continue enabling learning at home, worrying about how my pupils would cope, and the awful realisation that I didn't know when I was going to see my class and colleagues again. Now, more than ever, our pupils need to have fun and look after their wellbeing.
As always, our school's priority is Health and Wellbeing; for our pupils, families and staff. We issue a learning grid weekly, where pupils can engage in activities from the different curricular areas, and also set Health and Wellbeing challenges that the whole school can engage in to promote the sense of community that everyone is missing by not being at school.
Every teacher knows that learning has to be fun. So to keep pupils engaged via online teaching I had to get my creative thinking cap on! I teach a 2/1 composite, and my approach is to always have a variety of activities to give my class choice. From creating our own games to building obstacle courses to creating giant pictures (Art Attack style for those of you who remember it!), the children have had a lot of fun with their learning during this time. One pupil built a volcano with her siblings and made a video of the eruption, complete with dramatic music. Another has been setting P.E challenges for the rest of class, which of course I had to try out – hilarity and back pain ensued. My Primary 2 children also used their descriptive writing skills to create a 'Guess Who' game for the rest of the class, which was enjoyed by everyone.
One of the things I am missing the most is reading stories together. My class love listening to a story and interrupting with questions like "why are leaves green?", "does the unicorn eat AND poo sparkles?" and my personal favourite "why would Princess Tiana need the prince to buy her a restaurant – she's an independent woman". So as a reading task, the children filmed themselves reading their favourite story, and I posted one on our shared platform each day to make sure we could keep the enthusiasm going. They had so much fun with this activity, and watching them take on the role of the teacher was brilliant. When gathering feedback about their home learning experience, almost every child said that having story time together was their favourite activity.
Once these strange times have passed, I hope the children remember the fun above everything else. The memories of sharing stories and playing games, and watching their teacher attempt fifty star jumps in a row, will hopefully outshine all the negativity of our current situation
Lori Singleton, Glebe Primary School, North Ayrshire
---
The Latest News
As a school, we have sent out a weekly Closure Newspapers for the two weeks prior to the holidays (and plan to do so for the remaining weeks we are at home) to all families to keep the spirit of togetherness and let everyone see what each other is up to, as well as chart our journey learning at home using Google Classroom.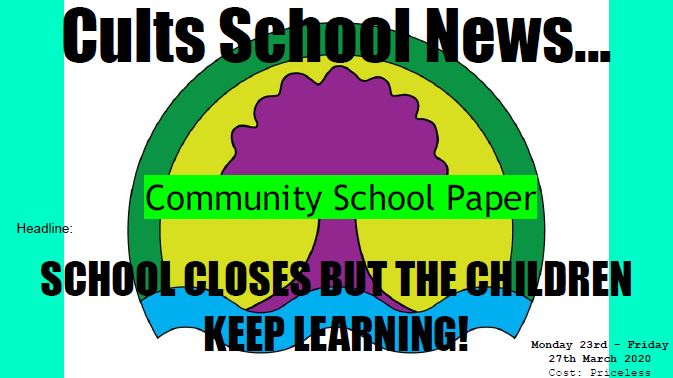 Gayle Allan, Acting Principal Teacher, Cults Primary School, Aberdeenshire
---
Supporting Pupils
As Principal Teacher of Pupil Support, I have been making weekly contact, by phone and email, with families/pupils within my caseload deemed as being vulnerable. I have also been continuing to liaise with Social Work, CAMHs, Family Support teams etc for vulnerable pupils.
I created a House Group Google classroom, with the majority of my caseload of 200 pupils participating, where I check in on pupils, they post messages about their experiences, share recommendations about what films they are watching, books they are reading etc. It's primarily a way of me addressing them as a group and maintaining our House identity.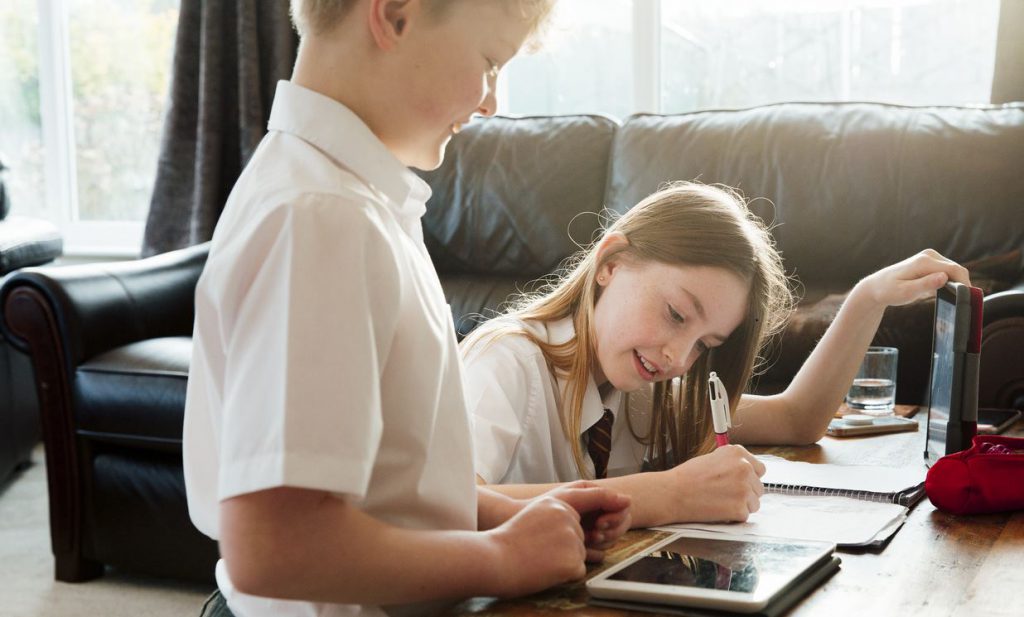 I am in touch with classroom teachers, some of whom have expressed concerns about kids feeling a bit overwhelmed with work, so I contact the pupils directly to ensure they are ok. I am also the link with a private counseling service we offer to pupils. They have been continuing to provide consultations, via telephone, on a Monday. I am on call in case there are any issues with that.
As the UCAS coordinator, I have been keeping up to date with their updates and conveying these to pupils. I've also been communicating with pupils concerned about their university offers, in light of recent SQA announcements.
As an English teacher, I have been overseeing an S2 and AH English Google classroom: Issuing work, responding to queries regarding work and marking work that pupils have submitted to me.
Jim Mallaghan
---
Impossible Choices
I am a job share PT of Guidance at a secondary school.
In March, my young son came home from school with a note saying that he had "started coughing persistently today." That evening he complained of a headache and had a raised temperature. I notified my line manager that NHS24 had instructed the family to self isolate.
I was given options including working from home on full pay, or taking unpaid leave. Due to financial reasons and being a single parent I opted to work from home.
We were instructed to download MS Teams, google classroom and outlook onto our devices as the direct access network couldn't cope with demand and this way we would get work done. A WhatsApp group was set up by the member of SMT responsible for course choice/timetabling. Despite this not being a working day and having a poorly child at home I did as asked.
It was decided that we would carry out our role of pastoral support by "checking in" with pupils over the course of a month, prioritising who needed a daily check in, fortnightly checking or monthly check in. We were then instructed to make these calls via our personal mobile phones ensuring our numbers were withheld, and were told that if we were given additional costs via our network provider these would be reimbursed at a later stage.
I was woken the following day (a non working day) by an email alert at 6am. Between 8am and 11am, I had received over 100 notifications on all the various applications which were now on my mobile telephone.
The notifications continued, being able to see my workload build up and questions asked I ended up working a little each day, unpaid.
The following week, we were told that while we were not being asked to go into work, if we needed to collect anything the campus was open. Trying to log onto our servers I couldn't access anything, my internet was dipping in and out due to increased usage in the area in which I live. Aware that if I wasn't seen to be working, I would not get paid, I went to school and I worked, from 10am – 5pm without a break. Realising how ridiculous this was I made sure I took all the resources I needed home.
I was again assigned a large number of telephone call check ins, carrying out telephone calls which were unanswered due to a withheld number, leaving messages and following up with an email. When that task was complete, I then had to update notes in a well-being tracker spreadsheet.
That evening I cried. Overwhelmed with notifications, expectation and feeling nothing but failure.
Failing at homeschooling my children.
Failing to look after nurture and care for my poorly child.
Failure to compete the tasks being asked of me.
Failure to think rationally when all I could focus on was "if you don't work you don't get paid".
I am being expected to carry out the same tasks as those with no caring responsibilities. As usual I am met with the dilemma of what comes first work or family.
This experience may be the straw that broke the camel's back. Teaching is no longer a suitable career for working parents. It lacks support, understanding and flexibility.
Contributor wishes to remain anonymous.
---
Working at the Hub
It was the first time I had volunteered at the Hub. Although I felt a little nervous about following the guidelines correctly and potentially exposing myself to risk, I also felt relieved. I was relieved to get back to the children. Since the schools closed, I have been adapting to a different way of working. A challenge that myself and other teachers across the country are embracing.
I arrived 15 minutes early for my 12:45 – 3:00 shift. I was asked to wash my hands and to sign in. The risk assessment was shared with myself and 2 other members of staff from my school and we were shown around the parts of the school that were going to be used.
The children were outside in the playground after having their lunch, so we went to introduce ourselves. There were 9 children attending on this particular day ranging from Primary 1 to Primary 6. As has so pleasingly been the case recently, it was another bright and sunny day. The children were happy playing outside. When we went inside, we split between 2 classrooms. We asked the children for ideas about what they would like to do that afternoon. The morning had been largely spent working on some of the learning tasks that their own teachers had set for them, so we decided to have a more relaxed afternoon.
Dodgeball was a popular choice, so we went to the gym hall and had a few games, teachers included. The children certainly liked trying to get the adults out. The next request that came in was to listen to music, so we all took turns to share our diverse music interests. While some of the hits from Queen could be heard coming from one classroom, it was beatboxing that was most popular in the other room. The children played with Lego, drew pictures and played board games. All the while being incredibly respectful of keeping a social distance from one another. By the time we had followed an online art tutorial of one of the children's favourite Disney characters, it was already 3 o'clock and with that the end of my first experience of volunteering in the Hub.
After saying bye to the children and washing my hands, I left the school feeling like I had done something to help during these strange times. I even had my drawing of Stitch to boot.
This contributor is a primary teacher in Edinburgh, who wishes to remain anonymous
---
Sharing Resources to Support Home Learning
Our school has created a resources box which our Headteacher Annabelle Burns placed in our local co-op. This is to help those without resources at home to engage in the learning and for us to maintain our duty of care during home learning and teaching. Annabelle has had many other schools contact her to say how great the idea is and her tweet has been retweeted from other schools throughout Scotland.
Krystel McGill, North Muirton Primary School, Perth & Kinross
---
Unsustainable Workload
Currently it is "Spring Break", but like many others after the last two weeks, the crushing guilt surrounding working remotely is real. I, like many others, have volunteered to staff the hubs, but have not yet been called upon because of the sheer volume of colleagues who did the same.
I started using Google Classroom 2 weeks ago, and it has become my master. I see that it has worth, but am also aware of the fact that working remotely has started to occupy a massive portion of time.
I want the union to highlight the fact that I can only keep on top of everything (preparing a constant stream of work, fielding questions, marking, being emailed by parents who now have email access…etc) because of lockdown. When this finally ends, I can only hope that people realise that this level of online commitment is untenable alongside our everyday jobs.
Contributor wishes to remain anonymous.
---
Dedication and Professionalism
I wanted to get in contact to say how humbled I am at the dedication and professionalism of my teaching, early years and support staff colleagues, including catering and cleaning staff, who have selflessly volunteered to work in the Killearn Hub which is currently serving the families of key workers across the Balfron Learning Community in Stirling.
Staff are working in shifts to cover our 8am-6pm opening times and have also given their Easter break to ensure keyworkers have access to essential childcare.
The staff from Killearn Primary school have also been outstanding. Not only preparing home learning for their classes prior to the school closing but also going out of their way to ensure the Hub was ready to open on Monday 23rd April. Nothing was too much trouble despite being seriously depleted in numbers due to staff illness or self-isolation.
It is an honour to work with such caring and dedicated people.
Pamela Craigie, Head Teacher, Killearn Primary School & Nursery, Stirling
---
Wednesday Windows – Combining Creativity and Community
When lockdown began, a number of our pupils were, understandably, heartbroken. We noticed that many pupils were keen to take part in the NHS rainbow window challenge and so my colleague and myself decided to take it a step further in our village in order to keep spirits up.
Within Kilmaurs (and another close local estate in Kilmarnock) we have created the Facebook page 'Wednesday Windows'. The page is run by myself and Hannah Corrigan, and we post a theme each week for the children to create and post in their windows. We then create a treasure hunt style map of the area and encourage pupils to use their daily exercise to walk the village and find the windows matching the theme.
So far, we have had rainbows, Easter eggs, key worker superheroes, Easter scarecrows, and our latest theme is symbols of hope. This theme was the outcome of a vote on the page.
Lauren McCulloch, Kilmaurs Primary School, East Ayrshire
---
A Vital Roll in Physical Education
The Forres Academy PE department came up with a creative physical test for pupils, parents, carers and staff during the lockdown – the toilet roll challenge! Watch the video that explains all…
Dear Key Workers
Children's Poet Laura Mucha worked with children across the UK and beyond to create a poem thanking Key workers such as teachers, carers and healthcare workers. You can hear the poem in this video that they created.