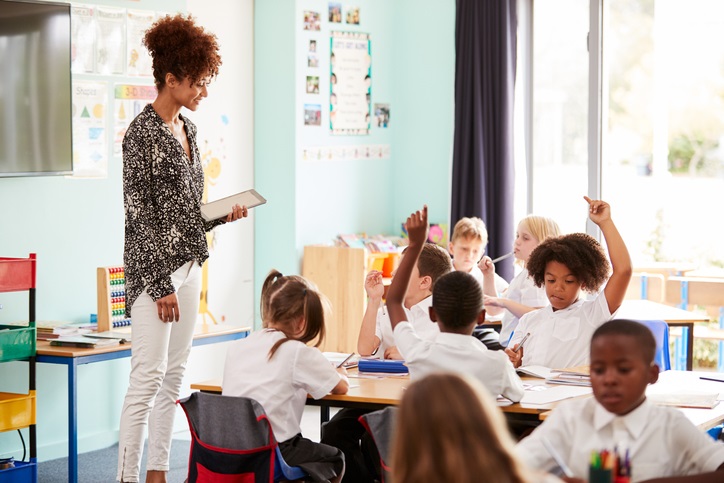 Responding to the growing calls for anti-racist activism, the EIS has planned a series of webinars to look critically at racism and anti-racism in our classrooms and beyond.
The first in this series was a panel discussion 'Black Lives Matter in Education' which specifically considered the experiences of Black, Asian and Minority Ethnic teachers and pupils, following on from a previous SEJ article in which we took a wider look at racism in Scotland in the context of the Black Lives Matter movement.
Racism in Scottish Education
All speakers raised important challenges to the false notion that racism no longer exists in Scotland.
"It happens in every classroom, pretty much daily."
– Madeleine Joseph
A 2019 report by Intercultural Youth Scotland found that half of pupil respondents did not feel able to tell their teacher if they experienced a racist incident. In the EIS briefing on Anti-racist Education, a widespread lack of data on race-based incidents in schools across Scotland was noted. Whether due to under-reporting or under-recording, limited evidence inhibits progress and hides the reality of racism in, plain sight.
Madeleine Joseph from the Reparations in Education Campaign spoke about her experience of growing up mixed-race in Helensburgh and the background to the petition which now has almost 16,000 signatories. The Reparations in Education campaign addresses the curriculum, initial teacher training, and underrepresentation in the profession.
In 2005, Professor Rowena Arshad conducted a study into the school experiences of minority ethnic pupils in Scotland, finding that some were reluctant about teaching as a career, due to the racism they had witnessed towards their BAME teachers.
"Once, in French, she (the minority ethnic teacher) was trying to go past, all the boys were annoying her and pulling her scarf because she wears a scarf as well. And they didn't let her past and she talked to the teacher about it and Miss X goes "It's nothing to do with me, go to someone else", and she just ignored her."
– Pupil cited in "Minority Ethnic Pupils' Experiences of School in Scotland (MEPESS)" report, 2005.
Chair of EIS Anti-racist Sub-Committee Khadija Mohammed drew attention to the fact that in the last decade, the picture in terms of the representation of BAME teachers in schools has not changed much in spite of Scotland's increased racial diversity, with 98% of secondary teachers being white. Linking to her doctoral research, Khadija found that cultural competencies, linguistic abilities and other skills BAME teachers bring are often devalued, meanwhile BAME teachers feel over-scrutinised by senior leadership, demotivated and further isolated.
Madeleine also spoke about the isolation, as a pupil, of not having a teacher from the same background, and missing out on those role-models.
To address some of these issues, the creation of a new National EIS BAME Network aims to provide a space for BAME teaching professionals to make connections and host discussions, whilst also providing specific training opportunities to address the prevailing barriers that exist for BAME teachers.
Nuzhat Uthmani, representing the Glasgow EIS BAME Network spoke of the racism experienced by BAME staff and pupils, raising awareness of the everyday processes of 'othering' where BAME people are stereotyped and often excluded from participating due to a lack of understanding about their experiences and needs.
Including BAME perspectives, not only in Black History Month or when teaching about the history of slavery, but in teaching about BAME contributions to art, science and politics, could reduce the construction of an 'other', and foster greater understanding of our colleagues, Nuzhat explained.
"The majority of stories we are told are from white males"
-Madeleine Joseph
Intercultural Youth found that around half of respondents disagreed that subjects taught at school reflected their life experiences as a BAME young person in Scotland. Although calls for diversifying the curriculum are not new, they have been reignited over the last few months. Better integration of a range of perspectives and integration of minority ethnic stories and sources would enhance the curriculum and improve the learning experience for all young people in Scotland.
Enough is enough
Anthony Harmon, Vice President for the American Federation of Teachers spoke about working towards race equality in schools and his own experiences of activism.
"Of course, all lives matter. But until we start having these honest conversations that something is happening (…) where people don't value black lives – where I can witness a most recent shooting where someone shot two people, a white man, have the rifle thrown across his chest and walk by, and the police did absolutely nothing… That would not have been the same story if it was me."
Earlier this year, the American Federation of Teachers passed Resolution ENOUGH committing, amongst a range of other initiatives, to actively support legislation against police brutality, promote police accountability, and the removal of police from schools. Although a very different context, we must not forget Scotland's own examples of policy brutality, such as that which resulted in the death of Sheku Bayoh in 2015.
Through this Resolution, the AFT demonstrates their activist commitment beyond the world of work, continuing the long history of trade unions' fight for equality. In Scotland, the Fair Work Framework centres on equality, and is an important tool for trade unionists to embed within our practice.
Previous social justice efforts by AFT also include addressing risk factors present in education that are linked to later injustice in incarceration, such as tackling higher school suspension rates of Black youth. In England, school exclusion of pupils from Gypsy, Traveller, Roma or African Caribbean backgrounds were recently found to be twice as high as for other groups.
There is no doubt that in acknowledging the detrimental impact of racism on pupils and teachers, trade union commitment to anti-racism should sit alongside work towards racial, social and economic justice in the whole of society.
Nuzhat Uthmani echoed this statement in her talk, describing how BAME teachers are questioning how many times they must raise the same issues, before things change, and that awareness raising events must have clear outcomes to be meaningful. To move forward, we must not close our eyes to the reality of racism in Scotland, and we must be prepared to take an active and sustained role in ending it through truly embedding anti-racism in all aspects of our work.
From policy to everyday
Scotland's Race Equality Framework and Action Plan sets out an important strategy for racial justice, but we all have a part to play if we are to achieve its aims. Especially considering the under-representation of BAME educators, we must ensure that anti-racist work is taken on more equally, and that we all do our part to support our BAME colleagues and pupils who often inadvertently become the token spokespeople for anti-racism. White people have an important role to play in reckoning with racism and driving forward change.
"The burden of representation, for some (BAME teachers), becomes so huge that it impacts on their wellbeing."
– Khadija Mohammed
Khadija Mohammed acknowledged the bravery and creativity of those who are already finding ways to put anti-racism into action in their teaching and workplaces. Khadija reminded participants that this is, "a call for acknowledgment, a call for action, and a call for accountability". You can visit the EIS website for further reading and resources on anti-racism. At our next webinar, we will consider the concept of allyship, and what makes a good anti-racist ally.
A recording of the webinar can be viewed in full on our website https://www.eis.org.uk/Past-Webinars/BLMinEducation To keep updated on upcoming events, visit https://www.eis.org.uk/Meetings-And-Events/Courses.
To join the National EIS BAME Network, email lmeechan@eis.org.uk