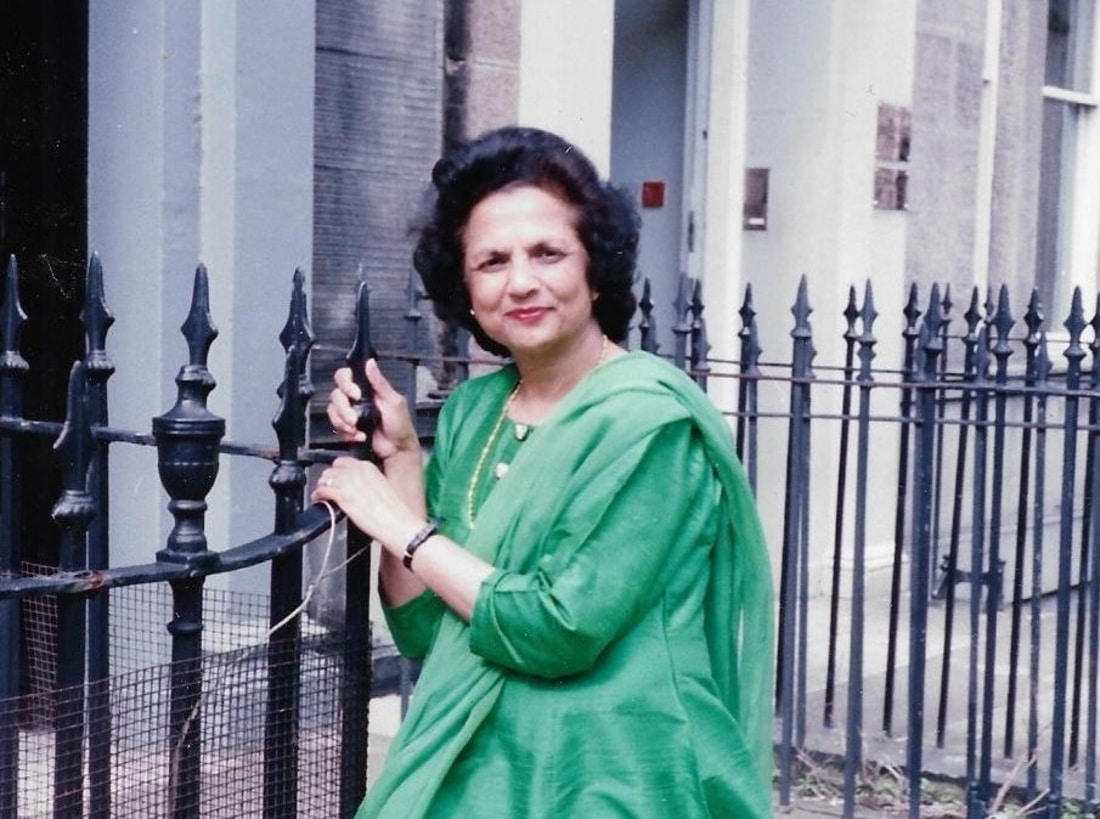 Saroj Lal, 1937-2020
Saroj Lal was one of Scotland's first Asian primary school teachers and a pioneer in the field of anti-racist education.
A feminist and trailblazer for equal opportunities, as director of Lothian Racial Equality Council (LREC) she was at the forefront of race relations during a period of immense political and social change
Born in Gujranwala (then part of British Colonial India, later part of Pakistan) in 1937, Saroj was daughter of Behari Lal Chanana, a businessman and Congress party politician, and his wife, Wazir Devi Khurana, who died when Saroj was young. The youngest of eight brothers and sisters she was brought up in the Indian sub-continent during its most turbulent time in history – Partition.
She attended Kanya Maha Vidyalaya school, Jalandhar, and in 1962 graduated with an MA in economics from Panjab University in Chandigarh. She married Amrit Lal, an engineer, and the couple moved to Edinburgh in the 1960s.
Saroj trained as a teacher at Moray House College of Education, and then taught at South Morningside primary school from 1970 to 1973 where she was truly a pioneer as one of the country's first Asian teachers.
Her training as a schoolteacher was instrumental in preparing her for her later work in multi-culturalism and anti-racist education, as at the time so many of the teaching materials presented a skewed – and often prejudiced – view of developing countries. She would go on to challenge perceptions and stereotypes throughout her career, and fight for a more equal – and balanced – representation of minority ethnic communities in teaching materials and children's books.
From 1973 to 1976 she worked in a voluntary capacity with the YWCA's Women's International Centre, and subsequently as a community worker with the YWCA Roundabout International Centre until 1980. In 1980 she moved to the LREC, becoming its director in 1990.
in her role with LREC she worked with public and third sector agencies – including the Home Office, NHS and police – to champion the rights of the disadvantaged and the voiceless. In 1986 she was the first Asian woman in ­Scotland to be appointed as a justice of the peace.
Working with Lothian and Borders police, Saroj helped to draw up a working definition of racist attacks, to introduce regular monitoring of racist incidents, and to increase the profile of black and minority ethnic communities within the police force.
Saroj worked hard to improve all aspects of life in Edinburgh's minority ethnic communities Education, and access to education for women and girls, was one key priority. She worked closely with the local Sikh community to persuade and encourage those who held more traditional views to let their girls continue in secondary and further education, and in order to win the respect of their parents and elders she started the first-ever Asian Cultural Girls' Club at Drummond Community High School. She set up the Continuation Course for Asian girls at Telford College, providing a gateway to higher education.
She led the early development of the Edinburgh Hindu temple, and set up the city's first interpreting and translating service for the local authority.
After retiring in 1996, Saroj returned to teaching as a supply teacher in primary schools, was chair of Nari Kallyan Shangho, a project designed to offer support to south Asian women, and she continued to be an active member of Edinburgh Hindu temple.
Saroj passed away in March at the age of 82. She is survived by her husband Amrit, their children, Kavita and Vineet, and by granddaughter, Isha.
Saroj Lal remembered at South Morningside Primary School
August 2020, shortly after Saroj's death, marked the 50th anniversary of the start of her teaching career. To mark the occasion, pupils and teachers at South Morningside Primary arranged a special event in Saroj's memory.
The pupils had prepared a presentation for an assembly attended by Saroj's family, with her former colleagues Margaret Stephen and Isobel Mieras also in attendance.
Speaking about the event, Saroj's son Vineet said, "P7 had prepared a wonderful presentation on Saroj's life, the key points of her career, her role in both education and race relations and the challenges she faced. They asked some brilliant questions on topics including Nelson Mandela, Saroj's conflict with politicians and BlackLivesMatter. They presented our family with a special garland with the motto: There is only one race; The great human race."
Show Racism the Red Card Video
Saroj's family worked with the anti-racism charity Show Racism the Red Card to produce a short video in her memory.
The video includes contributions from Khadija Mohammed, Chair of the EIS anti-racist committee and Professor Rowena Arshad FEIS, Co-Director of the Centre for Education for Racial Equality in Scotland.