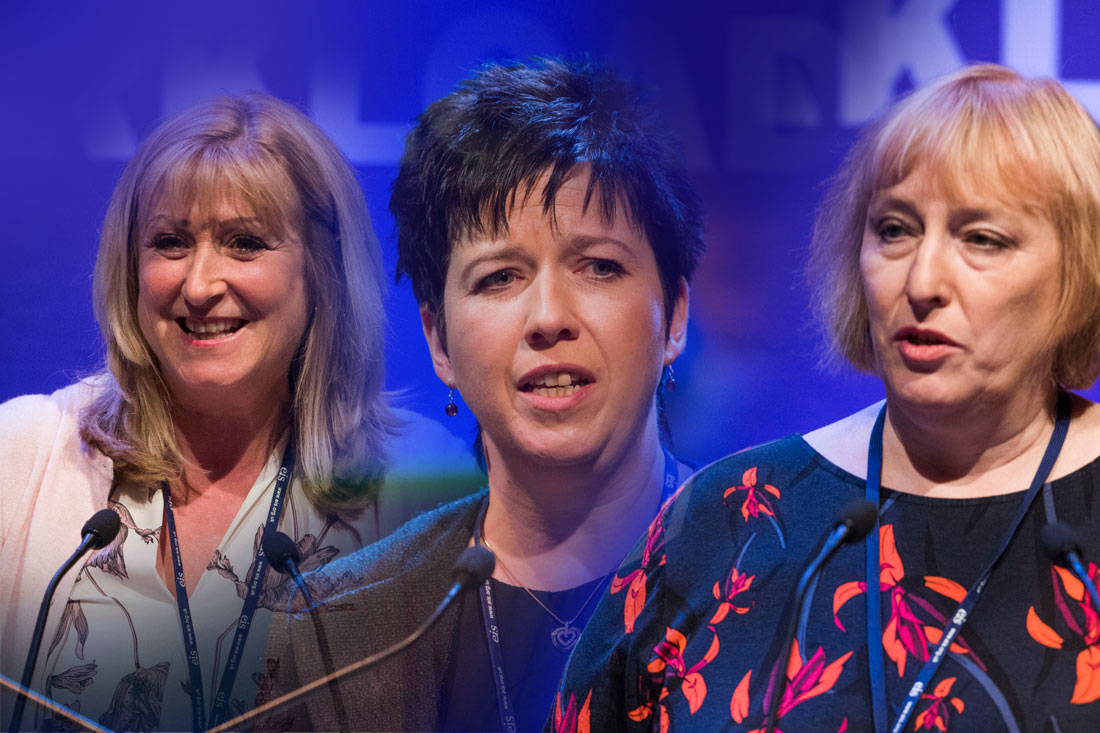 The first meeting of EIS Council for the academic year was, naturally, dominated by the subject of COVID-19 and its impact on education, teaching staff, and learners.
EIS President Carole Thorpe chaired the meeting, which was held virtually in order to comply with current government guidelines.
Executive Committee
Presenting the report of the Executive Committee, Vice-President Heather Hughes looked back over the scale of the challenge that has faced education since the previous meeting of Council: "It's been quite a summer. Many of us have had no summer at all. The EIS has really stepped up to the mark in these unprecedented and extremely difficult times. We were expecting to come back with 2 metre distancing and blended learning, and had planned and risk-assessed on that basis. We had our 3 red lines that made clear the basis on which we were prepared to see schools re-open. The announcement by the Deputy First Minister that schools would re-open fully with no social distancing took us absolutely by surprise. Everything changed, quite literally, overnight."
"The EIS continued to work throughout the summer to adapt and to offer as much support to members as it possibly could. The EIS raised members' concerns with the Scottish Government on many occasions during this period, particularly on social distancing – we did not believe that zero social distancing was safe, and this is a position that we still hold. We have continued to push for smaller class sizes – as the only way to facilitate effective social distancing."
The Vice-President answered a variety of COVID-related questions from members of Council.
Nicola Fisher (Glasgow) highlighted that the Scottish Government had indicated that it would revisit advice on ventilation for the winter months, and asked when this updated advice would be available "as it's only September now, and already we have pupils sitting in classrooms with their coats on because of the cold."
Responding, Ms Hughes said that the EIS had repeatedly raised this matter through the COVID Education Recovery Group (CERG) and that, as a result, a new report was due to come to CERG "imminently" with an update on heating and ventilation guidance for the winter period.
Ms Fisher also asked if there was an update on any further developments at CERG. The Vice-President asked General Secretary Larry Flanagan, who represents the EIS on the group, to provide the update.
Mr Flanagan highlighted that CERG was now meeting weekly, and that the EIS is continuing to share relevant information with members via emails, Bulletins and via social media. Publication of weekly information on the levels of infection, something the EIS had called for, was now taking place. The information published thus far makes clear that levels of infection are rising, although in schools this is still less than across the population generally. New data on infection by profession is being gathered, so it will soon be clear whether teachers are more at risk than other occupations. There had been significant discussion at the last meeting on ventilation.
The EIS has also raised the concern around teachers who were previously shielding but who are being required to work in schools rather than from home. The EIS has called for the specific issue of previously shielding teachers to be addressed as a matter of urgency. Discussion on qualifications for next year was due at CERG next week, with an announcement by the Deputy First Minister set in parliament for early October, said Mr Flanagan.
Mick Dolan (West Dunbartonshire) raised concern over recent media narratives blaming teachers for the rise in COVID cases: "Our largest secondary school has 200 adults in it, and they are regularly moving classrooms and sharing facilities. The mitigations are clearly not working in circumstances such as this. There seems now to be a tendency, in the media and elsewhere, to blame teachers for the spread of the virus – but it is not the fault of teachers."
Andrew Fullwood (Glasgow) added, "When Directors of Education and the First Minister are blaming teachers for the spread of COVID, I get very angry. We have been put back into workplaces that are overcrowded and where social distancing is impossible – the mitigations are totally inadequate."
The Vice President replied, "We have been continuing to make the case for social distancing, which can only be delivered through smaller class sizes" and the General Secretary added, "If members are in a staffroom that is over-crowded, that should be raised collectively as a grievance in that school. One of the issues that we have is that members will put up with too much – but we need members to act collectively at branch level, supported by the local association, to get these issues addressed with the national body offering support as required."
Mr Fullwood then asked about what the triggers might be for schools to close or move to a model of blended learning, while Pam Currie (EIS-Fela) asked how closely the data being published by the Scottish Government was being scrutinised, citing emerging evidence about asymptomatic children possibly spreading the virus.
The General Secretary responded, "We do ask questions about the data, and challenge on the issues based on the data. Every decision that is made is based on a balance of probabilities – there are no absolutes. We absolutely understand that there is a lot of concern amongst members, and we are continuing to highlight these and press for appropriate action to be taken. On blended learning, the EIS asked yesterday at CERG about what the triggers would be that would require a school to be closed, and we still don't have a concrete answer on that from the Scottish Government."
Council approved a paper from the Executive Committee on the next steps to be taken on COVID safety, including a 20-point action plan that will be taken forward by the Strategy Committee as a matter of urgency.
COVID-Related Motions
In a related Motion, Nicola Fisher (Glasgow) successfully called on the EIS to adopt a campaigning approach to secure a wider range of mitigations to protect pupils and staff in schools, including, but not limited to:
recruitment of further teaching staff and expansion of the school estate to allow for smaller class sizes and physical distancing between pupils of all age groups.
a return to the blended learning contingency plan.
The Motion also calls on Executive to investigate and collate international best practice strategies which could be implemented in Scottish schools for the safety of all staff and pupils.
Moving the Motion, Ms Fisher said, "The Scottish Government plan to re-open schools was predicated on low instances of COVID-19, so the current mitigations are not effective given the current increases in the virus. We must recognise the teachers' representatives are outnumbered something like 26 to 4 at CERG – it has not been a negotiation in this forum, although the EIS has consistently tried to make the case on behalf of teachers. Some of the nitty-gritty of this battle must take place at a local level – we cannot expect the national body to take on every battle – we must take action locally to ensure the best for our members. Working to become strike ready at a local level, if the situation demands it, will be vital. And we need to be clear what our campaign is about – to keep our members, and the children in our schools, safe."
Seconding the Motion, Education Convener and Glasgow LA Secretary Susan Quinn said, "It is vital that we have this Motion in front of us today. It is important that our members are aware of what their elected leaders are doing, on their behalf, to make our schools safe.
It is incumbent on us, the lay leadership of the union, to take these issues forward on behalf of members and support our full-time officials in their work at CERG and on other bodies. We also need to change the narrative on blended learning, and highlight the differences between that model and the short-term, short-notice home learning that we all experienced during lockdown. It is crucial that our members see that we are continuing to push for fewer people in our classes, to protect their health and wellbeing."
Andrew Fullwood (Glasgow) was successful in proposing a Motion instructing the EIS to call on the Scottish Government and Local Authorities to immediately introduce smaller classes in the senior phase of secondary school to support physical distancing and to help mitigate for the education deficit caused by lockdown.
"The reason that the virus is spreading is because the government has decided to open us back up. We are trying to do what is asked of us, but we are being blamed for the spread of the virus. Smaller class sizes are the best way to enable physical distancing and reduce the spread of the virus," said Mr Fullwood.
Mr Fullwood was also successful in moving another Motion, calling on the Scottish Government and the SQA to delay the exam diet until the beginning of June 2021 and adjust all other submission deadlines accordingly.
Employment Relations Committee
Convener David Baxter updated Council on the work of the Committee, including on benevolent fund matters where they had considered 13 applications for assistance and 9 grants totalling £25,000 were authorised.
On legal affairs, the Committee considered 47 cases at the meeting, and was pleased to note that £311,611 had been received in settlements on behalf of 10 members since the last meeting.
On Health & Safety, the Committee had been updated on the key COVID-19 Health & Safety issues processed by the Employment Relations department. This detailed the work undertaken by the Employment Relations department to raise members' concerns with COSLA and the Scottish Government on a number of issues such as social distancing and the application of risk assessments to take into account COVID – 19 mitigations.
Education Committee
Convener Susan Quinn told Council that a lot of work was currently ongoing on Professional Learning, with a lot of focus on supporting education recovery. In response to the SQA diet, the Committee had asked for a press release to go out, highlighting its anger at the situation that pupils and teachers had been put in during the SQA results process. Ms Quinn noted that there had been a great deal of interest from members in EIS online Webinars, such as the session on pedagogical approaches to education recovery.
Responding to questions, Ms Quinn said there was some development taking place nationally on blended learning models including some based on established online platforms such as e-Sgoil. However, she did acknowledge that there was "probably not enough being done quickly enough". Ms Quinn also noted that Education Scotland are "too fond of soft launches of their materials" and that sometimes the materials are not easy to access. "Materials have to be available, in the event that we have to move to blended learning or home learning in the future," said Ms Quinn.
Equality Committee
Convener Nicola Fisher updated Council on the most recent meeting of the Committee, where they had discussed the disproportionate impact of COVID in many sections of society – including young people, particularly those living in poverty, people from BME communities, women and people with special needs or disabilities.
Ms Fisher said the Committee was very cognisant of the concerns of members who were previously shielding, and of the need for clearer guidance and support for this group of members.
On anti-racist issues, Ms Fisher reported that the EIS Welcome Packs for young people new to this country continue to be very highly regarded, and very highly sought after, at a local authority level. The second issue of the welcome packs are being sent out at present, with EIS staff working to ensure that this was not disrupted by the COVID pandemic. A £3000 donation has also been received from EIS-Financial Services, and this will be used to buy additional stationery to be distributed to young people with the packs.
The EIS continues to campaign to have proper anti-racist education embedded in schools.
Vice President Heather Hughes raised the issue of a massive inequality for some pregnant members at present, with some authorities allowing pregnant members (over 28 weeks) to work from home, while others are insisting that these pregnant members work in schools – even if they have doctor's letters stating that they should not be working in school for their health, and their baby's health.
Responding, Ms Fisher said, "This is a massive issue, where Equality Committee, Executive and local associations all have a role to play in supporting members. We need to pursue this in every forum that we can, so that our members are not subjected to a postcode lottery of safety."
Salaries Committee
Vice-Convener Mick Dolan provided an update on the work of the Committee, noting that a number of issues that the Salaries Committee is responsible for have been put on hold as a result of the COVID crisis.
The SNCT did recently meet for the first time this session, and agreed a schedule for taking forward the outstanding issues.
A review of teachers' pay, an element of the last pay agreement, was tabled and noted by the union side. The EIS was clear that we will not be bound by contents of this report, and will formulate its pay claim, via the Salaries Committee, in the normal way.
On pension scheme matters, Mr Dolan said that following the recent court ruling that changes imposed by government were unlawful on the grounds of age discrimination, the Government has stated that it intends to provide a remedy by 2022. The EIS is clear that the cost of that remedy should fall on the government, not members of the pension scheme, said Mr Dolan.
Other Motions – PEF Funding
David Farmer (Fife) successfully called for the EIS to carry out an investigation into the use by Scottish Local Authorities of administration fees, levies, clawback on schools PEF funding.
"This money is supposed to be going directly to schools, to provide support for pupils who need it the most. So, if a significant percentage of it is being retained centrally, that means these pupils are not receiving the level of support that they should," said Mr Farmer