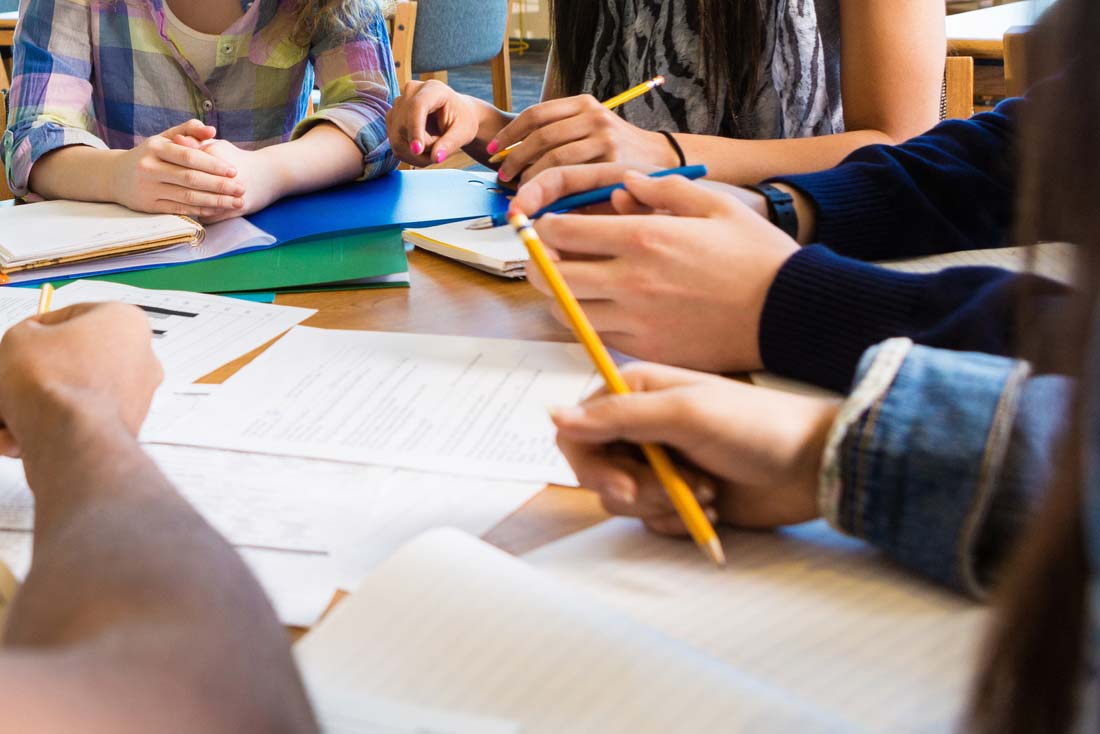 The EIS Action Research Grants scheme continues the EIS's long tradition of teacher-led research in Scottish education. Each year, a cohort of our members are funded by the EIS and supported by academic partners and by peers to undertake projects in their local context, innovating in their teaching practices and arming the profession with detailed knowledge about the sector.
Here, two EIS members share their experiences of the Action Research Grants scheme, and give an insight into their findings and the impact of research-based learning on their own teaching practice.
Exploring the Impact of a Growth Mindset Approach in Additional Support Needs Settings
Kiara Sim, a class teacher in Glasgow, undertook an action research project in 2019-20 exploring the impact of a Growth Mindset approach in additional support needs settings. Here Kiara outlines her project, shares some findings and reflects on how action research has advanced her professional learning.
As a teacher with a genuine love for learning, as clichéd as that may sound, I couldn't have been more excited when my proposal for the EIS Action Research Grant was accepted. I am always looking for new challenges, both personally and professionally, and I knew that undertaking my own practice-based research project would be an invaluable opportunity to develop new knowledge and skills to enhance my teaching practice.
The aim of my research project was to investigate whether a Growth Mindset approach could raise attainment, achievement, and enjoyment in Numeracy within an additional support needs setting. I have a vested interest in Growth Mindset and Health and Wellbeing after completing the Applied Growth Mindset course through the Winning Scotland Foundation, and I believed that these methodologies could significantly benefit my learners. However, in contrast to my enthusiasm about Growth Mindset, I have to admit that I have never been particularly enthusiastic about maths. It was a curricular area that I didn't feel overly confident teaching, but after learning about Growth Mindset and exploring some of the concepts in depth I felt that it was the perfect vehicle to change not only my own attitude towards Numeracy but also my learners' perceptions of the subject.
Although there is a vast body of evidence which highlights the positive impact of a Growth Mindset approach to learning and teaching, there is very limited research pertaining to children with additional support needs; furthermore, a mere fraction of this is directly relevant to the Numeracy context. Thus, I embarked on this project to find my own answers by conducting a small-scale study which would inform, and potentially transform, my teaching practice. By combining Numeracy with Health and Wellbeing and interdisciplinary learning, I was determined to dispel the perception of maths as a 'formulaic' subject, and present it as a creative and enjoyable subject, based more on the learning process than right or wrong answers.
I was supported by the EIS Action Research Grants academic partners to plan my study, and I used the funding to purchase stimulating resources for the implementation of my focus group activities. I was encouraged to present my findings and share ideas with fellow educational researchers, and to think critically at every stage of the project development. I valued the opportunity to participate in professional dialogue and to share good practice, and I feel that these experiences have undoubtedly made me a more reflective and reflexive practitioner.
I enjoyed intertwining my research project within my everyday practice in the classroom, and I also enjoyed the rigour of tracking the learners' progress which was a fundamental aspect of my data analysis. It was heartening to see outstanding improvements in the learners' engagement and enjoyment of the subject, which was also reflected through pupil voice in the form of pictorial questionnaires. I was pleased that the learners also made significant academic progress as a result of the more creative approach to teaching and learning in Numeracy, and their confidence improved alongside a greater willingness to challenge themselves.
Over time the group formed stronger relationships, and began to demonstrate more respect and kindness for one another. Upon collation of the results from the study, it was evident that participation in the project not only enhanced the learners' Numeracy skills and attitudes towards the subject but also their interpersonal skills. Following six months of Growth Mindset-based learning experiences, the pupils reported a more positive view on collaborative working. They were also more supportive and encouraging towards one another, which was manifested in the celebration of each other's successes – however small!
The findings of my project were resoundingly positive and provide strong evidence for the benefits of a Growth Mindset approach in this context. A critical reflection on this research is that my sample size was very small, and it is important to note more research in this field would certainly be beneficial.
Through re-shaping my learners' outlook on Numeracy, I also addressed my own (mild) distaste for the subject and I now look upon maths much more favourably than I did a year ago. This opportunity to explore, critically reflect and analyse in my own way has furnished me with a renewed vigour for learning and teaching, and I feel equipped to push myself out of my comfort zone – which is the epitome of Growth Mindset!
My involvement in the EIS Action Research Grants scheme has benefited my own development as much as the development of my learners. This project has shifted my professional knowledge and understanding into a higher gear and I would thoroughly recommend that all educators consider undertaking their own piece of research. You won't regret it!
Investigating the Impact of Empowering Pupils to Develop Their own Learning Support Materials and Resources
Michelle Simpson is a Class Teacher with a Supporting Learners background in Dundee. In 2019-20 Michelle undertook an action research project investigating the impact of empowering pupils to develop their own learning support materials and resources. Here Michelle outlines what motivated her to explore this topic, and how the Action Research Grants scheme supported her own professional development.
As teachers we are required to engage with professional learning to ensure our practice is critically informed and up to date. Often this is led by others, but practitioner enquiry offers an alternative approach.
To provide the best learning experiences we can for our young people we should always be questioning. How can I teach this better? How can I help this child learn more effectively? How can I manage my time better? In looking for better ways of doing our job, we are already enquiring practitioners. It is definitely a more effective way of bringing about improvements than complaining!
I liked the idea of leading my own enquiry into something I was interested in but wasn't entirely sure of how to go about it. The EIS Action Research Grant offered me a chance to carry out an enquiry in a structured and supported manner. I chose to focus mine on providing targeted support for pupils in the classroom. Applying for an EIS Action Research Grant committed me to a certain responsibility for providing results, which I found focused my research but also provided valuable funds for acquiring resources and materials to support my pupils.
Support from my Headteacher allowed me the opportunity to lead this enquiry independently, reflecting on my practice and making appropriate changes in my own classroom; changes to pedagogy, changes to my classroom environment, changes to my support strategies, all in order to meet the needs of my learners. Being given the freedom to make these improvements to my own methods of teaching gave me a sense of empowerment that in turn gave me renewed confidence in my abilities to bring about positive change in my own learning environment. The nature of the project meant that pupils were also empowered to make changes in their learning environment, which brought about great improvements in engagement.
Having the EIS support helped with planning, gathering data and analysing findings, and meeting with colleagues from across the country allowed an opportunity to share ideas and support each other to refine our research.
Practitioner enquiry requires a great deal of reflection and it was important to me to realise that there's always more to learn. I frequently changed aspects of my project as I realised I could do things more effectively. My professional learning has benefitted greatly from this project. I have carried out a lot of professional reading on a subject that I am passionate about and feel better prepared for supporting learners in the future. What it has also shown me though, is that any challenge I come up against, I can use as an opportunity to explore and learn more about in order to overcome it.
The success of this project and the support of my school in allowing me to undertake it has given me the confidence to pursue future enquiries and I look forward to seeing where they take me.
Kiara and Michelle's research reports will shortly be available on the EIS website, along with other EIS research and professional learning materials. Members are encouraged to use these research findings to inform their own teaching practices, or as a starting point for their own practitioner enquiry. Applications for the EIS Action Research Grants 2021-22 programme will open in January, and more information will be available soon via the EIS website and member bulletins.